See Wi-Fi the way we do.
With the ever increasing utilization of Wi-Fi, corresponding tools are needed to investigate crimes, secure networks and protect sensitive data. WiFi Investigator® V3 is the perfect tool, providing law enforcement, military, healthcare organizations and corporations with sophisticated real-time  locating and analysis capabilities not available with other products.
Download: WiFi Investigator™ V3 Product Overview
Download: WiFi Investigator™ V3 for Law Enforcement
Check out the Field Accessory Kit for additional WiFi Investigator™ V3 capabilities.
General WiFi Investigator® Uses:
LOCATE Wi-Fi enabled devices passively. Whether concealed in a backpack, car, drop ceiling, or hiding in plain sight, WiFi Investigator® will not only detect these devices, it will bring you to them. No longer will sources of evidence go undiscovered.
APPREHEND criminals who use Wi-Fi. WiFi Investigator® provides law enforcement with the ability to identify and locate criminals using unsecured wireless networks and hotspots for the purposes of conducting illegal activities. Criminals will no longer be able to hide behind Wi-Fi.
PROTECT your sensitive data from unauthorized access. WiFi Investigator® provides an effective means to perform comprehensive security audits in real-time, ensuring compliance with internal policies and legal privacy regulations.
SECURE your network and communications. WiFi Investigator® can instantly discover and locate rogue and suspicious devices on your network. It will also display security configurations for each discovered device, ensuring incorrect configurations are identified and corrected quickly.
SURVEY wireless environments. Whether searching for a specific device of interest, or seeking to identify the amount of Wi-Fi activity in a given area, WiFi Investigator® can help. It is ideal for discovering the presence of Wi-Fi devices and activity, while also displaying unique information for each communicating device. In addition, users can capture and analyze data packets and network traffic in real-time. Before setting up a Wi-Fi network, know the environment.
Key Features: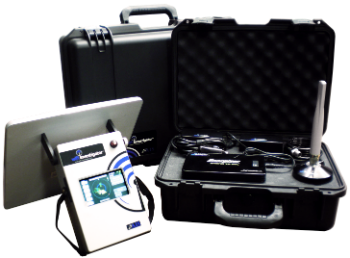 Data Gathering: WiFi Investigator® gathers and displays information on devices operating on all 802.11 protocols.  (a, b, g, n) It also displays information on channels and modes of operation, as well as encryption types and packet rates.
Filters: Display only what you need to see, eliminating everything else from your view. Create filters for one time use, or save them to the library to be used again.  All filters can be named for easy reference and can be modified on the fly. Even with filters applied, WiFi Investigator® is still collecting information for all discovered devices.
Alerts: Color coded notifications allow for easy recognition of devices when you need it.  Set up alerts beforehand, or tag them as you go.
Analysis and Reporting: WiFi Investigator® has a built in web interface that allows for analysis and report generation from any computer containing a web browser.  Analysis capabilities include filters, tags, sorting, and more, all with a fully customizable view so you see what's important to you.
Additional Features:
 Passive operation; listens only and does not transmit any data
 Simple touch screen interface
 Geo-location and device finding
 Customizable data capturing and viewing
 Supports war-driving exercises
Effective October, 1, 2013, Wetstone Technologies (http://wetstonetech.com) has assumed marketing, sales, technical support and distribution of WiFi Investigator to the global marketplace.